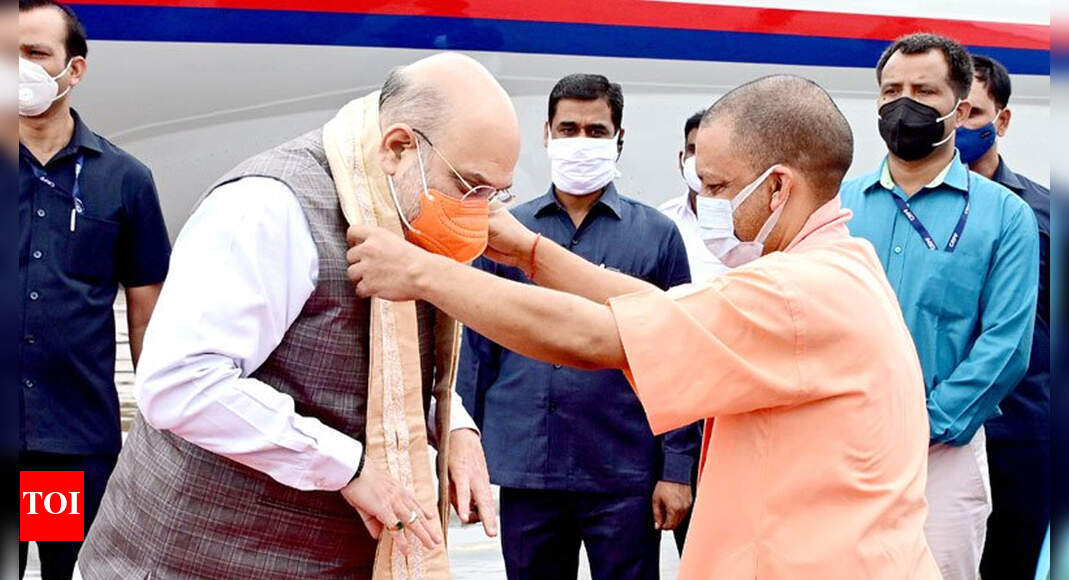 LUCKNOW: Union home minister
Amit Shah
on Sunday lauded CM
Yogi Adityanath
for taking UP ahead of all other states in the country in terms of law and order situation, in a development that marked fresh affirmation of Yogi as a key leader on which the BJP seeks to bank on in the run up to UP assembly elections due next year.
"Not only law and order, UP is leading other states in implementation of other 44 developmental schemes of the Centre. UP has developed in all fields…It is a matter of pride for us," Shah said after laying the foundation stone of UP State Institute of Forensic Sciences in Lucknow. The institute, which will be affiliated to Gandhi Nagar based National Forensic Science University, is proposed to come up at a cost of Rs 200 crore.
Yogi's fresh endorsement by a top BJP leader comes days after PM Narendra Modi and BJP national general secretary (organisation) BL Santhosh hailed the party's saffron mascot for his management in battling corona pandemic. Shah too emphasised that the Yogi government worked exceedingly well in controlling the pandemic through testing and vaccination. His assertion was seen as BJP's fresh stern counter to opposition which seeks to corner the saffron dispensation over mismanagement of Covid during the devastating second wave.
The home minister categorically tore into the opposition accusing it of pushing UP into a state of anarchy and instilling fear amongst people through fanning of communal tensions until the BJP came to power in 2017.
"I have seen the UP closely since 2014. There was migration of people in west UP, women felt unsafe, land grabbers used to usurp government/ private land and bullets being fired in broad daylight," Shah said, asserting that the BJP stood by its promise of ensuring a robust law and order situation and making UP a developed state. "The opposition leaders were nowhere in the time of crisis and people, especially the farmers, needed them. But when the election approaches, these leaders come to the fore wearing new clothes," he said.
Shah said that the state was on a progressive trajectory in terms of industrialisation, bringing in investments, working for the farmers and women and cracking down on corruption. He said that the state economy doubled from Rs 11 lakh crore to Rs 22 lakh crore in the last four-and-a-half years to become the 2nd largest economy in the country. "We have stressed that the governance will not be for a specific caste or one particular family or one but for all," he said, in an apparent jibe at the
Samajwadi Party
.